MACC
MACC is a national collaborative infrastructure to promote and support Open Science initiatives in supercomputing, data science and visualization. It is a sustainable computing and data infrastructure, aimed at national scientific and industrial communities, articulating with international partners.
MACC is the main member of RNCA – National Network for Advanced Computing – and operates a set of technological resources of the type HPC – High Performance Computing, to be used by the research, technology and innovation / industry communities.
MACC was created in November 2017 through an agreement between FCT, Universidade do Minho and University of Texas in Austin (USA) which manages one of the world's largest supercomputing centers in the academy sector, TACC – Texas Advanced Computing Center.

Installed in 2019
800 nodes with Intel Xeon "Sandy Bridge" technology @ 2.7 GHz
1.5 PB of disk storage
Infiniband FDR
1 PFlop of maximum processing capacity
Instalation in 2021/22
Specifications published by EuroHPC
One of the 5 Petascale supercomputers co-financed by EuroHPC
Fujitsu PRIMEHPC A64FX (ARM partition) and Atos Bull Sequana AMD EPYC (x86 partition)
33 nodes with GPUs NVidia Ampere
Storage with 430 TB High-speed NVMe partition and 10.6 PB high-speed based Parallel File System partition
10 PFlop of maximum processing capacity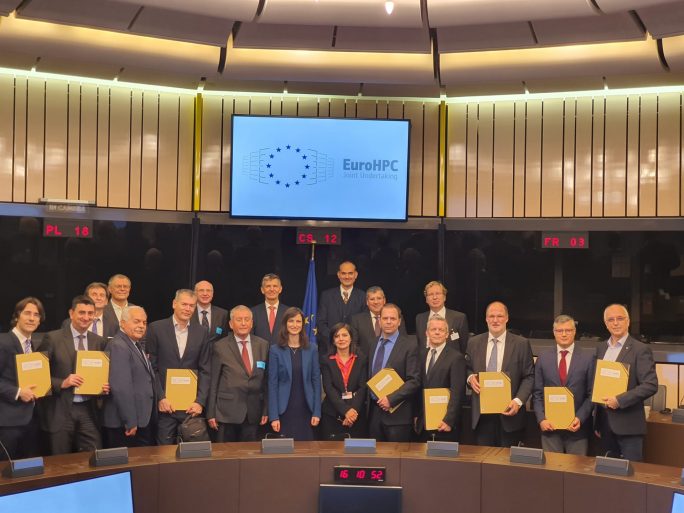 Signature of EuroHPC JU Grant Agreement