CCVCA-UTAD
Center of Competence and Visualization in Advanced Computing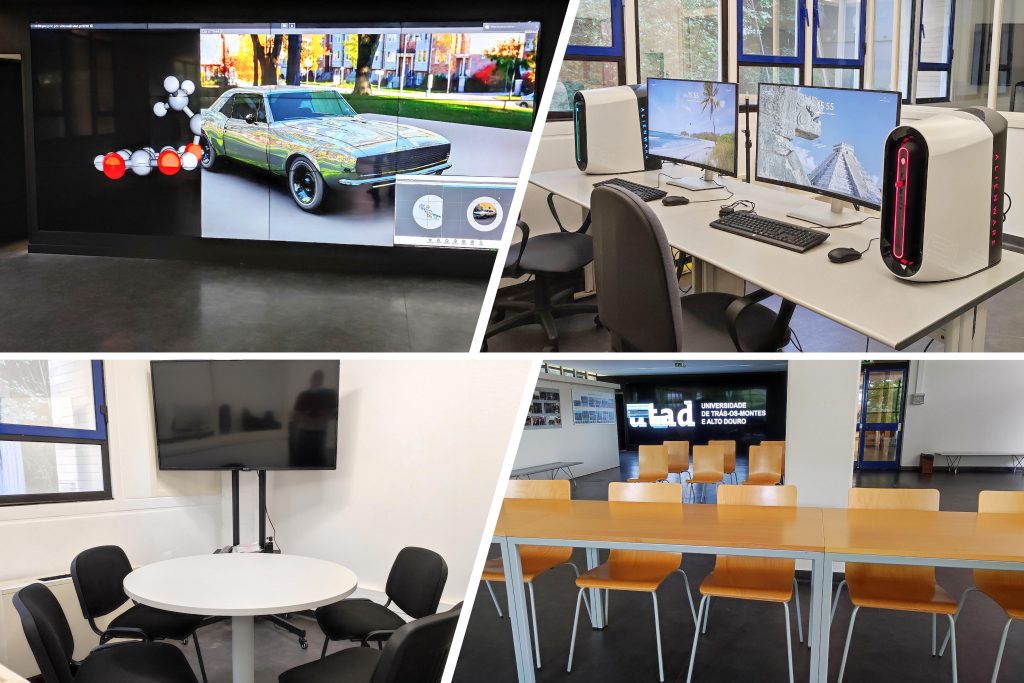 The Center for Competence and Visualization in Advanced Computing at the University of Trás os Montes e Alto Douro (UTAD) acts as a facilitator of advanced computing competences, bringing to researchers, faculty, students, and the business community the ability to process and visualize data.
"Reflecting UTAD's main valences, the Visualization Center focuses on the areas of computational vision, artificial intelligence, and virtual reality, and is equipped with equipment that facilitates the access and use of these technologies."- Hugo Paredes, Pro-Rector for digital transition and administrative modernization, Associate Professor at UTAD.
Main valences
Support to the entrepreneurial fabric
Technical specifications
Alienware Aurora R12 Workstation with 11th Generation Intel® Core™ i9 11900KF and NVIDIA® GeForce RTX™ 3090, 24 GB GDDR6X
3X4 Videowall
DELL T7920 visualization server, 2 Intel Xeon Gold 5220R processors totaling 48 processing cores and 4 NVIDIA RTX400 GPU cards
3D visualization equipment HTC Vive Pro
Optitrack Prime x13 motion capture sensors with 8 cameras
SAGE2 Software
tel: 259 350 000(IT Services)
address: University of Trás-os-Montes e Alto Douro - Quinta de Prados, Vila Real
markings: ccvca@utad.pt
Access Policy: The center's space and resources are accessible under prior registration via email at ccvca@utad.pt.